Refurbished computers zijn een goed alternatief voor mensen die een goedkope pc / desktop willen aanschaffen. Niet alleen gebruikte computers kunnen hier worden gekocht, maar ook  een complete refurbished workstation, refurbished laptop, refurbished game pc, servers en alles van het merk HP. Hp elitebooks, probooks en Zbooks zijn hier te vinden.
Deze refurbished desktop computers zijn zeer kort gebruikt, komen van het bedrijfsleven en zijn nog heel goed bruikbaar. Het is dus feitelijk een tweedehands gebruikte computer, maar hier zitten dan ook meerdere voordelen aan.

Buy refurbished computers? 
Het grootste voordeel voor jou is waarschijnlijk de prijs. De refurbished laptops en computers worden soms tot 70% voordeliger aangeboden en dat merk je in je portemonnee.  Het zijn goedkope computers en goedkope laptops die nog heel lang mee kunnen gaan.
Maar misschien is het grootste voordeel voor jou van het kopen van een tweedehands computer wel dat het milieuvriendelijk is. In plaats van weggooien wordt de computer en de laptop hergebruikt. Dit is natuurlijk veel minder belastend voor het milieu dan dat je alles altijd nieuw koopt.
Garantie op refurbished computer?
Als je een refurbished computer gaat kopen kun je er zeker van zijn dat deze 100% goed functioneert omdat deze compleet is nagekeken. De laptop en de computer zijn gereinigd van binnen en van buiten en helemaal startklaar gemaakt voor gebruik. Het stof is eruit geblazen, de vlekken zijn verwijderd en alles wordt gepolijst en netjes ingepakt.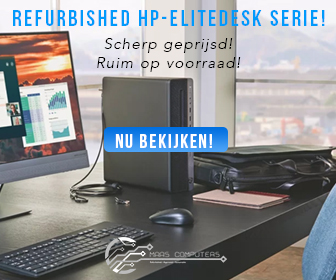 Ook technisch wordt alles nagekeken: als het nodig is worden onderdelen vervangen, zoals toetsenborden, de accu, adapters en andere accessoires. Als het nodig is vindt er een systeem update plaats en bij Maas Computers werken ze met een gradatie systeem, A, B of C.
A-gradatie is zeer netjes met minimale gebruikerssporen en 100% technisch in orde.
B-gradatie is goed maar met lichte gebruikerssporen, eveneens 100% technisch in orde.
C-gradatie is matig met duidelijke gebruikerssporen, maar wel technisch 100% in orde.
Uiteindelijk zegt de gradatie dus niets over de functionaliteit van het product, zij zijn allen 100% technisch in orde en er wordt minimaal 1 jaar garantie gegeven op alle tweedehands computers en laptops.
Er wordt zelfs ook 2 of 3 jaar garantie gegeven in bepaalde gevallen.
1 jaar garantie is het minimum wat Maas Computers biedt (met uitzondering van printer supplies). Alle defecte onderdelen worden in deze periode gratis vervangen. Het is mogelijk om deze garantie te verlengen met een extra garantie pack.
Standaard wordt er 2 jaar garantie geboden op hi-end refurbished workstations en hi-end refurbished servers.
Op veel nieuwe producten krijgt u standaard maar liefst 3 jaar garantie!
Voor wie zijn de tweedehands computers en laptops bedoeld?
Zowel de zakelijke markt als de particuliere markt zijn klant van Maas. Gelukkig zijn er tegenwoordig ook veel bedrijven die kiezen voor duurzame investeringen. Als we met zijn allen bewust worden van het belang van het behoud van de aarde, dan kunnen onze kinderen en kleinkinderen en de volgende generaties vredig op aarde blijven leven. Particulieren en het bedrijfsleven raken hiervan steeds meer doordrongen. En ook bij de overheid speelt duurzaamheid een steeds belangrijkere rol. Als er een aanbesteding gedaan wordt is er gelukkig niet meer alleen oog voor de prijs en kwaliteit, maar speelt het milieu ook mee in de afweging welke partij te kiezen. Gemeentes kunnen daarom ook overwegen een refurbished computer te kopen, dat is duurzaam, goedkoop en milieubewust tegelijk. Daarmee geven ze een goed signaal af aan de inwoners van de gemeente en blijft er geld over voor andere belangrijke duurzame investeringen in de gemeente.
En niet alleen bedrijven in Nederland worden geleverd vanuit Venray, Maas Computers levert in heel Europa en zelfs in de hele wereld!
Tweedehands computers die verkocht worden zijn onder andere veel producten van HP en Dell:
HP Z440 Workstation
HP Elitebook 8560w
Nvidia Quadro 2000 videokaart
HP Z420 Workstation
HP Z400 Workstation
HP Z800 Workstation
Nvidia Quadro 600 videokaart
HP Z600 Workstation
HP Z230 Workstation
Ddr3 Sdram geheugen
E5 2670 Processor
HP Z230 Workstation
Ddr3 Sdram geheugen
E5 2670 Processor
E5 1620 Processor
HP Z620 Workstation
I5 4300 Elitebook
HP Z200 Workstation
HP Elitebook 840 G1 I7
Socket 1356
Intel Xeon E5 2600 V3 Processor
Ddr3 8gb 1600mhz Laptop
Dell Latitude E6430 I5
Dell Precision T3610
Reparatie Service aanwezig indien nodig.
Voorbeelden van onderdelen van een laptop die gerepareerd / vervangen kunnen worden zijn een gebroken scherm, Als je webcam defect is kan deze gerepareerd worden, evenals de power jack. Problemen met de WIFI kunnen worden verholpen en geluidsproblemen kunnen worden opgelost. Als het nodig is kan de hele behuizing worden vervangen. 
Een refurbished computer aanschaffen kun je risicoloos doen, want je hebt een gegarandeerde 30 dagen retournerings garantie. Aarzel dus niet om het milieu en je eigen portemonnee een beetje helpen door het kopen van een refurbished pc desktop.
Liever een nieuwe computer – gespreide betaling?
Natuurlijk respecteren wij iedereen die liever een nieuwe computer aanschaft. Ook de zakelijke markt mag nieuw kopen of leasen. Check dan onze pagina over het leasen van computers, laptops en zelfs televisies. 
Een andere goede aanbieder bij wie je een refurbished laptop kunt kopen staat elders op deze website. Dus als je tot nu gekomen bent en nog niet gevonden hebt wat je zocht, check dan nog even of je bij laptops4all je deal kunt maken.
Als laatste wil ik je wijzen op de pagina nha studentenplaza, want als je dan zo'n voordelige computer hebt aangeschaft dan is het leuk om online cursussen te gaan volgen en jezelf verder te ontwikkelen. Dit kan op allerlei gebieden gezien het grote aanbod dat NHA voor je heeft. Je kunt ook op de banner hieronder klikken om rechtstreeks naar de website van NHA te gaan.